About the Creative and Practical Arts Association (CAPAA)
The website has been made possible through funding from the Creative and Practical Arts Association and Deirdre Russell-Bowie.
In 1990 a group of concerned primary arts educators created the Creative And Practical Arts Association (CAPAA) in response to NSW primary teachers' requests for support and resources to help them teach the creative arts in their classrooms. CAPAA became an incorporated association with Deirdre Russell-Bowie as the president and for ten successful years, the association presented many rural and urban creative arts conferences as well as publishing several creative arts resource books each year on different relevant classroom themes.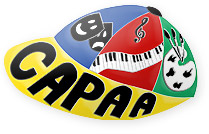 The CAPAA presenters and authors were artists, teachers from both the Department of Education and the Catholic system as well as university lecturers and included Deirdre Russell-Bowie, Verity Madsen, Nika Norman, Nicki Graham, Moira Gibson, Laura Solomon, Tania Trevison and many other talented and committed teachers who were passionate about sharing their love of the arts with other teachers and with children.
The Association, as such, no longer offers conferences or resource books so this website has been funded as a result of the Association's long-standing commitment to arts education.
However individual CAPAA members are available to run conferences in schools and rural areas.
Contact us for further details.
Professor Deirdre Russell-Bowie: Email